Making of What a Night!
Avec plus d'un an de production, What a Night! compte parmi nos projets les plus importants.
Les premiers tests ont débuté en mars 2010 alors que la version finale n'est sortie qu'en août 2011. Contrairement aux autres projets mis de côté pour des raisons techniques ou de temps (BoB IV, Ticket Quest), What a Night! a été repoussé maintes et maintes fois parce que nous attendions la piste son du film réalisée par Florent, notre sound designer.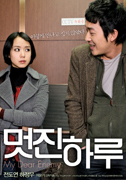 L'histoire est fortement inspirée du film My Dear Enemy (Lee Yoon-ki, 2008) dans lequel une femme retrouve son ex-petit ami pour récupérer l'argent qu'il lui doit. Ce dernier n'ayant pas de quoi la rembourser, ils vont parcourir Séoul à la recherche des amis et connaissances de monsieur qui pourraient le dépanner.
What a Night! en reprend donc vaguement le pitch et lorgne plus du côté du buddy movie. Contrairement à Change of Scenery et son héros unique, les personnages principaux de WaN! peuvent interagir et parler entre eux sans faire intervenir un tiers. Ceci permet de développer un peu les personnalités des protagonistes en alimentant sur leurs doutes (la féminité de la femme) ou leur passés sombres (l'argent a été perdu en jeu).
Du coup, le machinima est centré sur ses dialogues et, pour garder une longueur raisonnable, les scènes d'action sont plutôt courtes ou entrecoupées de scènes de dialogues. Comme les personnages à l'écran n'ont pas de visage et n'agitent pas la tête exagérément quand ils parlent, le rythme du machinima est lent.
A la manière de Change of Scenery, les éléments de WaN! se retrouvent souvent plusieurs fois dans le film. Cela permet d'introduire des personnages ou des objets avant leurs réelles interactions dans l'histoire, d'utiliser le comique de répétition et d'étoffer la cohérence de l'univers et du scénario.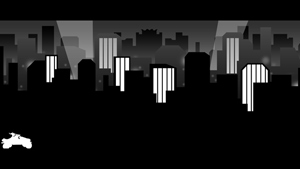 Au début, la ville d'Akira (Katsuhiro Otomo, 1988) et donc également celle de Metropolis (Fritz Lang, 1927) ont été une source d'inspiration. Mais la ville est peu présente dans le machinima final, essentiellement sous forme de fonds lors des séquences en voiture.
Nous avons profité de ce film pour nous essayer au noir et blanc permettant d'installer une ambiance film noir propice au sujet et qui facilitait surtout l'incrustation d'effets spéciaux.

Concernant le son, Florent a composé toutes les musiques (excepté le générique de fin que nous a cédé l'artiste Aydio), a ajouté tous les bruitages et en a réalisé le mixage final.

Avant de tourner quoi que ce soit pour le film, nous avons d'abord effectué des tests pour les scènes qui représentaient un gros challenge : celles dans la rue et sur la route.

Pour la scène dans la rue, l'idée de départ était que les personnages soient uniquement éclairés par un lampadaire avec le noir complet autour. Un peu comme dans les animes ou plus récemment dans Scott Pilgrim VS The World (Edgar Wright, 2010). Par contre, ce n'est pas pour montrer la solitude du personnage mais pour cacher l'absence de décors.




Nous avons commencé par tourner des personnages sur la map Fonderie gardant ce qui serait visible par la lumière d'un lampadaire. Le résultat n'était pas à la hauteur de nos attentes, nous avons opté alors pour du noir complet. Ainsi, quand l'élite et le dealer avide de "sweeties" débarquent, il n'y a aucun décors. Les personnages ont été filmés sur fond vert puis incrustés dans un fond noir.
D'ailleurs nous n'utilisons plus cette technique puisque le découpage d'image 2D a un meilleur rendu que le détourage dans une vidéo (keylight).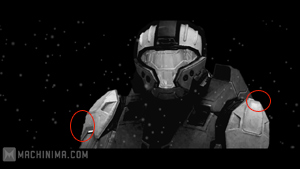 Les scènes en voiture étaient les plus difficiles à réaliser. A la manière de la scène de voiture dans Pierrot le Fou (Jean-Luc Godard, 1965) ou Pulp Fiction (Quentin Tarantino, 1994), le mouvement de la voiture devait être indiqué par les lumières.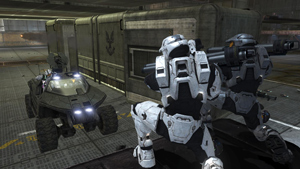 La lumière des roquettes faisait office d'éclairage de lampadaires. La même technique était employée dans le trailer du faux Kill Bill in Halo 3.
Pour accentuer le mouvement, de la neige a été ajoutée. Dans les versions de 2010, cette neige ressemblait plus à de la pluie qu'autre chose. D'ailleurs Florent y avait mis un son de pluie.
Toujours pour avoir plus de mouvement, la ville dans le fond est découpée en trois parties qui se déplacent plus ou moins rapidement selon la distance par rapport au véhicule.




Lorsque la bête attaque la fille, l'élite est filmé de côté avec un fond abstrait dans un style rappelant l'animation japonaise. Nous utilisons cette technique depuis Dance Little Liar mais avec comme fond la map du jeu. Comme le film regorge d'éléments ajoutés dans les effets spéciaux, nous avons ajouté un fond abstrait qui n'indique pas la position exacte de la bête dans l'espace, ce qui nous permet de couper facilement le plan en fonction du rythme du film sans nous soucier de la cohérence spatiale.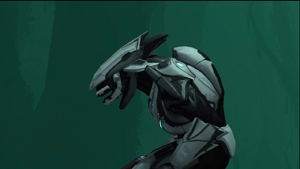 WaN! est notre premier et actuellement notre seul machinima parlant où nous n'avons doublé aucun personnage nous-mêmes.
Nous avions eu beaucoup de mal à trouver des doubleurs pour Change of Scenery. A part celle du personnage principal, chaque doubleur anglophone doublait deux personnages. Pour éviter de retomber dans les mêmes travers, nous nous sommes limités à quatre personnages dans What a Night!. Malheureusement pour des raisons à chaque fois différentes, nous avons été forcé de caster deux fois chacun des quatre personnages.
A l'écriture du scénario, nous avions en tête le doubleur du chef Rouge dans CoS dont nous trouvons qu'il a une voix de pirate, pour doubler le trafiquant d' "objets précieux". C'est pour ça que ce trafiquant dit "Vous me prenez pour un pirate ?". Le doubleur a décliné l'offre mais nous avons gardé quand même la blague.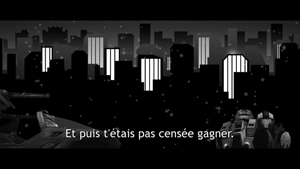 Pour pouvoir finir à temps et participer aux Festival du Jeux Vidéo, au Machin-expo et au Festival Atopic, nous avons dû couper le film. Le FJV imposait même une longueur maximum de dix minutes ce qui nous a poussé à retirer carrément la dernière scène amputant ainsi le film de sa conclusion. La version de 2011 est le machinima que nous voulions dès le départ. Environ deux minutes de scènes ont été ajoutées par rapport à la première version en plus d'un nouveau mixage sonore, de nouvelles musiques et des effets spéciaux refaits.




What a Night! est le projet le plus conséquent que nous ayons fait jusqu'à présent et nous n'en referons plus des semblables. Le film est passé dans quelques festivals et est notre machinima le plus vu grâce à Machinima.com. Collaborer avec d'autres personnes allonge le temps de la production. Malheureusement dans le cas de WaN! nous avons eu le temps de nous améliorer grandement concernant la mise en scène avec Super Space Gordon and the Robots-Ninjas!! et surtout Spies vs. Guards. Dommage que WaN! soit sorti après.

Par ailleurs en 2009, notre but était de faire un film par an à proposer aux festivals et continuer les séries et clips entre deux de ces grosses productions annuelles. Nous pensions que le machinima Halo pouvait intéressait un plus large public que les fans du jeu. Change of Scenery et What a Night! suivaient ainsi cette idée. WaN! nous a montré qu'à notre niveau ce n'était pas (encore ?) possible et que le design d'Halo rebute réellement les non-initiés. C'est pourquoi nous arrêtons ce genre de films et nous préférons faire des courts-métrages plus courts, plus rythmés et de préférence tournés vers l'action qui nous plaisent plus.